Battery Description
1). Designation System
The designation of a battery pack is compased of 5 code numbers each of them are used to identify different information:
The number of single cells in pack
The mode number of the single cells
The configuration
The tag type OR if wires are used
The direction or the tags / wires OR if connector is used
The sequence of code follows the above information flow: An example of such designation method is shown below;

The coding system of configuration, tag type, tag direction; etc, are explained in the following section.
¡@
1.1). Tag Direction






¡@
If connector is required, the code "C" is used.
Below are some standard models of connector we can supply.
(1) JST LR-02F-1
(2) JST EHR-2
(3) MOLEX 5264-02
(4) MITSUNI R14-62102
(5) UNIVERSIAL
¡@
1.2). Standard Tag Type
¡@






¡@






¡@
If no tag is needed, code 3 can be used.
If there are special requirements on the tags or wires, please inform
¡@
1.3). Standard configuration for battery packs
¡@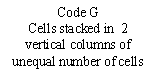 ¡@
A drawing of the configuration will always be welcomed.
If the configuration falls out of the above standard once, a code X can be given to identify its uniqueness.