Digital Soft Starters

Why Use RUDOLF Soft Starters?
Smooth acceleration and deceleration reduces the stress on motor and plant offering:
• Lower plant maintenance costs
• Less process waste
• Minimised energy consumption

Also, in comparison to other types of motor starting:
• Cost savings over inverters for fixed speed applications
• Extended motor life from:
• Reduced inrush current
• Reduced mechanical stress
• Improved power factor

Areas of application:
Forestry-Sawmilling, Pump, Marine, Pumps, Compressors, Fans, Process Control, Conveyors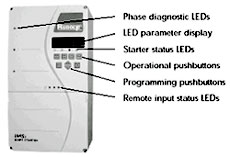 RUDOLF™ IMS2 starters are user friendly. Simple applications can be commissioned with only one programming adjustment. The required adjustment sets the motor¡¦s Full Load Current rating. For advanced applications, the IMS2 provides an extensive range of functions that cover the majority of motor starting and control requirements.



¡@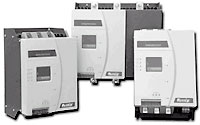 RUDOLF™ MSX3 Series Soft Start Controllers provide sophisticated soft start control for new or existing motor installations. All three phases are controlled by the MSX3. This provides users with the full range of electrical and mechanical benefits available from soft start technology.

MSX3 Series Soft Start Controllers are simple to install and easy to use. In new installations the MSX3 is easily integrated with a motor overload device and any other control equipment required by the installer to form a complete motor starting panel.